Investing in massage is an investment in your health. While you can choose from a variety of massage specialties, with and without therapeutic oils, feel good Swedish or deep tissue, every massage is done with the outcome in mind: your improved well-being.
Massages range from 30 minutes to 120 minutes and are usually done at the office. When setting up your appointment, make sure to discuss your questions and special needs so that Lisa can prepare accordingly.
Massages
Therapeutic Massage
Massages include Swedish and Deep Tissue as well as variations — in other words they are always customized to your needs.
Aromatherapy Massage
Lisa's specialty is utilizing essential oils to address specific areas of the body and dealing
with the mind at the same time. Whether you are stressed and agitated, depressed or sad, Lisa utilizes special blends of therapeutic essential oils to help you feel better.
Raindrop Technique

®
Raindrop Technique®* is an excellent, powerful modality for people with scoliosis or an auto immune disorder. In addition, a healthy person may want to give their system a boost during stressful times or highly infections periods during the winter months. During the application, ten different anti-viral, anti-bacterial and anti-inflammatory therapeutic grade oils and oil blends are used. The single oils include Thyme, Basil, Peppermint, Oregano, Wintergreen, Cypress and Marjoram. The three oil blends are Valor®, Aroma Seiz™ and Ortho Ease® Aromatherapy Massage Oil.
Raindrop Technique® combines the art of aromatherapy with the techniques of Vita Flex and massage in the application of essential oils to the feet and back. A heated wet towel is applied to the back after the application of oils. The 90-minute session includes hot stone massage. This technique provides a revolutionary means of bringing balance and harmony to the body — physically, mentally and emotionally.
*Recommended only for those who have routinely used Young Living essential oils.
Chair Massage
If a visit to the office is impossible or you have little time, chair massage is an excellent option to improve your health on a limited schedule. Lisa offers special event and corporate massage upon request.
Gift Certificates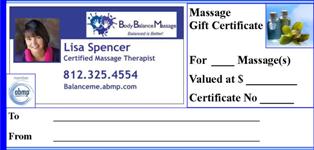 Need a personal gift? Why not give a gift that cares — a massage. Have no time to visit Lisa's office? Order a gift certificate by calling Lisa at 812.325.4554. She'll send you or the recipient a beautiful gift certificate.
Pricing
Lisa offers a variety of massages, ranging from 30 minutes to two hours. Please note that some massages are only offered in 60 or 90-minute durations.